Oh, the joy of the holidays…
While some celebrate September 1st as the day to return to Hogwarts (like me!). In the Philippines, that said date marks the beginning of a well-loved holiday not only in the archipelago but the whole world too.
But we all know that Filipinos have an entirely different (and long) way to celebrate the holidays, and here are a few things that would define if you're living a Filipino Christmas:
The countdown begins on September 1 As mentioned earlier, Christmas in the Philippines begins as early as the ber months strike. That means as early as September 1, everyone is starting to get into the holiday spirit. This usually lasts until January of next year. So if you're a jolly person (that could pass as the next Santa Claus), the Filipino Christmas Holiday is where to go.
Jose Mari Chan and Mariah Carey dominate malls' playlist
The two names become even more famous come the holidays in the Philippines. Jose Mari Chan and Mariah Carey are known to be the "best" Christmas song singers in town which is why their songs fill up the malls' playlist – we mean every mall possible.
You despise Christmas Rush
The closer we are to the holidays, traffic in the metro becomes worse. While we love the feeling of holidays, getting through the Christmas rush is not something we could learn to love. Especially the traffic it costs. UGH.
Christmas Decorations are no game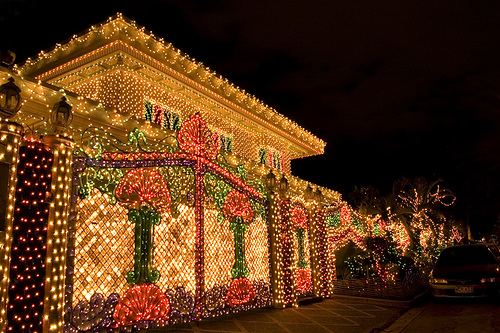 The Philippines is also known for extravagant Christmas decorations inside and outside the house. There are also some villages that conduct a Christmas decoration contest in their residences! And many famous destinations and parks in the Philippines get their decoration games on, too. This proves that decorating your house for the holidays is absolutely no joke.
Christmas food is also no game
Let's be straight-up honest here: You can't go on a diet during the Christmas Season. We're talking tables of food everywhere you go, from one reunion to another. Christmas also means that Christmas food like Puto-bumbong, bibingka pop up everywhere giving no choice but to give in to temptation.
What other Christmas traditions that define a Filipino Christmas? Tell us in the comments section below!
PHOTO FROM OVERSEAS-FILIPINOS.COM