It doesn't take a genius to know that INFJs love movies that make them think, speculate, and just swim around the world of ideas. As an INFJ myself, I find it difficult to share my overwhelming enthusiasm about these movies. So I thought, who else would appreciate these movies and actually like them other than my fellow INFJs?
And thus, the short list begins:
Waking Life (2001)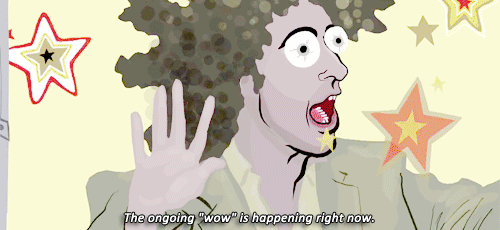 This animated movie, directed by Richard Linklater, follows the whereabouts of an unnamed main character (Wiley Wiggins) as he goes in and out of different, seemingly unrelated dream scenes. While it's not action packed as other sensationalized movies, this movie is stuffed with talking – but it's not the boring type of talking, mind you! – It's the type of talking that gets you thinking long and hard. (No pun, but I know you like that INFJs ;).
This movie is a banquet. By the end of the movie, you surely will get gorged with ideas on identity, self-awareness, existentialism, free-will, and more. It took me not just days… not just weeks… but years to finally digest everything that has been discussed in the movie. How's that for a philosophical film?
Synecdoche, New York (2008)
Ah, loneliness… we've all experienced that. But that's not the only gold in this movie. Borne from the directorial debut of Charlie Kaufman, this movie explores the ideas about hope, growing old, ambition and its eventual failure, and the complexity of loving another person.
Ready some tissues and comfort food because this movie is definitely gonna touch your most sensitive tear duct. The way Caden Cotard (played by the late Philip Seymour Hoffman) tried to direct an alternate life experience through his grand, artistic theater play is just truly beautiful. It pulls you in an emotional roller coaster ride and deep retrospection about your own life.
Amélie (2001)
Who wouldn't love Amélie? I dare say, it's the ultimate movie about introverts and how introverts think and dream! The way the movie shows how Amélie Poulain (played by Audrey Tautou) enjoys simple pleasures in life – that other people, ehem extroverts ehem, wouldn't understand – is sweet and really relatable for us INFJs; to the point even, that I know you'll think  Amélie is me!
Just like Batman, Amélie likes to help people in the dark. This isn't as dark as the Batman movies, though. In fact, if I could turn this movie into food, it would be a colorful marshmallow. After going on her private adventures in helping people, Amélie soon finds herself as the object of someone else's adventure.
Gone Girl (2014)
Of course, us INFJs aren't always that dreamy, mystical people usually written in our MBTI descriptions. Some of us are also into psychological suspense. (That's right, non-INFJs, these mushy people you know are also into some gory stuff!)
Gone Girl is one of those movies that I know INFJs would say, freaklingly awesome! Directed by David Fincher, the story revolves around the circus that is the marriage of Nick Dunne (played by Ben Affleck) and Amy (played by Rosamund Pike). On the day of their fifth wedding anniversary, Nick finds his house in unusually quiet, with a smashed glass table… and a missing wife.
I can't just put into words how Gone Girl made me hold on to my seat for the entire film. I didn't drink some water, I didn't pause the film to space out,  I didn't even pee for god's sake! I watched the entire film with intensity. If you're an INFJ who's into psychological war, you won't regret watching Gone Girl.
Pan's Labyrinth (2006)
Tired of those lame fairy tales for children? Pan's Labyrinth, directed by Guillermo del Toro,  is a fairy tale for adults. The movie is located in a forestry in Spain set in 1944, during the Spanish civil war.
Ofelia (Ivana Baquero) arrived there with her pregnant mother (Ariadna Gil) to be with her new husband (Sergi López), and army officer whose heart is shaped by hatred. As she was exploring the center of a labyrinth in the forest, she meets the faun Pan, who gives her a series of quests to finish.
If Waking Life tackles dream and reality, this time, Pan's Labyrinth explores the fantastical world of young Ofelia as opposed to her brutal and sad reality. It begs the question: what is real and what is fantasy? How do we separate the two in the mind of a young girl?
And that's about it! What's your top 5 movies that you'd like to share to other INFJs? Let's make a collaboration and make the ultimate list of movies by INFJs to INFJs.